Other Program
Matthias Schaller  Purple Desks 
TWS Aoyama: Creator-in-Residence Program Exhibition
Exhibition
Information
| | |
| --- | --- |
| Title | Matthias Schaller  Purple Desks  TWS Aoyama: Creator-in-Residence Program Exhibition |
| Date | 2008.4.12(Sat) - 2009.6.15(Mon) |
| Time | 11:00 - 19:00 |
| Admission | Free |
| Organize | Tokyo Metropolitan Foundation for History and Culture, Tokyo Wonder Site |
| Venue | TWS Shibuya |
| Artist | Matthias Schaller |
In November 2006, Tokyo Wonder Site established facilities in Aoyama with the aim of facilitating work by artists-in-residence. The launch of a series of exhibitions at TWS Shibuya showcasing the fruits of this work in 2007 marked for Tokyo Wonder Site a further expansion of their activities as Tokyo's newest platform for the arts, encompassing the institution's three bases in Hongo, Shibuya and Aoyama. As part of this program, TWS chose Matthias Schaller and Stephen Dean, two young talents recommended by persons working at the forefront of the international art circus, to participate their Invited Artists Program, the results of which are now presented in a special exhibition.
Invited by recommendation of Germano Celant, a Senior Curator of the Solomon R. Guggenheim Museum, Matthias Schaller creates "portraits" of empty rooms and urban spaces, along with their respective owners. He presents in this exhibition photographs of the cardinals' offices in the Curia Romana, Vatican. In the absence of human elements, these chambers convey a particularly strong sense of their occupants' presence, and the business they usually go about here.
Internationally renowned artist Vik Muniz recommended Stephen Dean, who pursues in symbolic renditions his studies of "mixing colors" as a core element of painting, while engaging in artistic work that encompasses video, painting and sculpture at the same time. His colorful video PULSE based on a week-long festival in a small Indian village, which received high praise at the Venice Biennale, is exhibited as a visual clip of reality rather than a documentary. During his stay in Tokyo, he shot footage of the bustle on the Tsukiji market and on Hachiko crossing in front of Shibuya station, filmed from a unique point of view. Next to these videos, this exhibition features some of his meteorological charts overpainted with water colors. These new works capture wide spaces, but in a way that makes them appear as tiny as pocket-sized miniature paintings.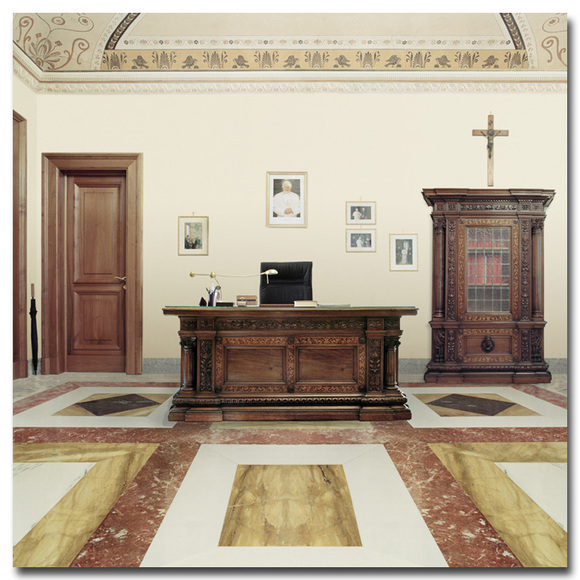 Matthias Schaller 《Congregation for the Doctrine of the Faith, Purple Desks》2004-2007, Photo
Participating Creator