TOP >
Archives >
EXPERIMENTAL SOUND, ART & PERFORMANCE FESTIVAL - Award Winners' Performance 2008 -
OPEN SITE
EXPERIMENTAL SOUND, ART & PERFORMANCE FESTIVAL - Award Winners' Performance 2008 -
Concert
Information
| | |
| --- | --- |
| Title | EXPERIMENTAL SOUND, ART & PERFORMANCE FESTIVAL - Award Winners' Performance 2008 - |
| Date | 2009.5.23(Sat) - 2009.5.24(Sun) |
| Admission | (Please see each program) |
| Organize | Tokyo Metropolitan Foundation for History and Culture, Tokyo Wonder Site |
| Venue | TWS Shibuya |
| Artist | Akiko Samukawa , tsumugine , sol gel pro |
The selected projects of different fields and sound performed at "EXPERIMENTAL SOUND & ART FESTIVAL" in January 2009. Two projects for Grand Prize, one project for Special Prize and four projects for Encouragement Prize were selected. We will support continuously and provide the opportunity to play the performance as the next step. This time, we are hosting the event performed by the winners at TWS Shibuya.
*Now, we announce "Open Application in the fiscal year 2009"
Grand Prize
Akiko Samukawa
"When images turn into dreams"
Date: May 23 (Sat.), 2009  19:00- (Door Open 18:30)
Admission: 2,000yen
Performer: Akiko Samukawa
Video: Kentaro Taki
Cooperation: Ryo Suzuki (Hashimoto Piano)
Support: Zenon Consulting, Ltd.
Program
"On musical notes in a staff notation system" This performance focuses on the way sounds from the endless sonic universe are captured in the system of staff notation (here symbolized by an insect cage), where they sit in the form of musical notes. The event discusses the state of things within the staff notation system, and its perspective on the world of sounds outside, to find out what kind of process sounds are undergoing.


Profile






Akiko Samukawa
Graduated from Ferris University, College of Music, Department of Instrumental Music, in 2005. Has been susceptible to all kinds of artistic concepts - noise (music) in particular - as a student. Is currently studying primarily musical performance, while at once exploring also other artistic fields of artistic expression in a broad sense with a special interest in musical improvisation. Is recently appearing in numerous concerts speculating about the notion of space in artists' works, and has begun to perform music written by contemporary composers. Performs as a solo artist, and since 2008 also as a member of the group "MiHaRI" with Kentaro Taki, Yukiko Watanabe, Maiko Date and Naoya Oe.
Grand Prize
tsumugine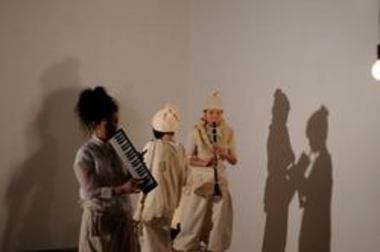 "sou"
Date: May 24 (Sun.), 2009  19:00- (Door Open 18:30) Sold Out
Admission: 2,000yen
Performer: Yasuno Miyauchi, Konomi Nakao, Nao Oohima, Yukiko Tsuda, Mamiko Yoshida, Shino Matsumura
Profile




tsumugine
Tsumugine is a music performance group which is active since 2008, initiated by Yasuno Miyauchi.Instead of reproducing a timeline which was created in advance, every member becomes a particle of the sound. The particles follow a simple rule, and everyone creates a sound while moving, colliding, changing, and fusing. The performance evolves spinning these spatial sounds together. Tsumugine aims for a music performance which is not only producing sounds, but extends to physical and visual expression. http://www.tsumugine.com
Special Prize
sol gel pro "Sol Gel Music 2"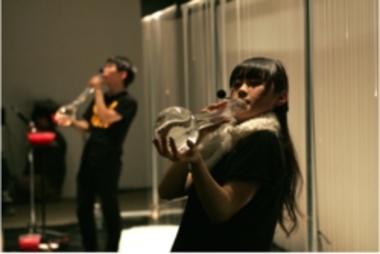 "Sol Gel Music 2"
Date: May 24 (Sun.), 2009  17:00- (Door Open 16:30)
Admission: 2,000yen
Performer: Nao Koyasu, Keito Suzuki
Program
The performance of using the instruments KUNAIFU[ku-nai-fu] & slime. KUNAIFU is an original instrument made of glass. The sound is affected by the movement of water and breath . The music is made by blowing the liquid in the instruments.
Profile




sol gel pro
The unit of Nao Koyasu and Keito Suzuki. We started our career at 2006. Theme of our performance is an unstable and natural existance just like Sol and Gel-not solid or liquid.
Participating Creator