OPEN SITE
Marginal Consort
OPEN SITE 2017-2018 Recommendation Program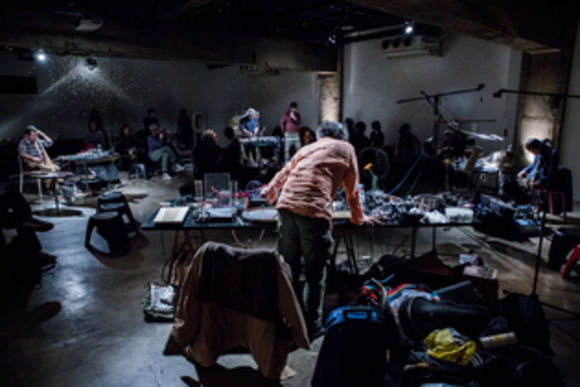 Information
Title
OPEN SITE 2017-2018 Recommendation Program
Marginal Consort

Date
2018.1.27(Sat)

Time
18:00

Admission
JPY 2,800-
Organize
Tokyo Metropolitan Foundation for History and Culture, Museum of Contemporary Art Tokyo, Arts Program and Residency Division

Venue
Tokyo Arts and Space Hongo
Artist
IMAI Kazuo
KOSHIKAWA T
SHII Kei
TADA Masami

Content
The collective improvisation project Marginal Consort have performed over 20 years, recently they have been performing internationally. The individual sound from independent soloists encounters at the open site and makes ephemeral but enriched sound site. During 3 hours performance, audience can walk around the space in free.

BOOKING
*Finished
[Additional Ticket Information]
Few tickets without reservation available at the door.
1. Visit reception desk and receive number card at 5pm.
2. Buy ticket, enter the venue in numerical order from 5 minutes before performance starts.
Please book your tickets by E-mail or Fax by providing the following information with a subject of "OPEN SITE booking request [title of the performance]"
1: NAME
2: Phone Number
3: Title of the performance
4: Date and Time of the performance
5: Number of the tickets
6:E-mail address or Fax number
E-mail: ticket2017(at)tokyo-ws.org
Fax: 03-5689-5331
* OPEN SITE Administration Office will reply booking confirmation within three working days. Please contact us again in case you do not receive the confirmation e-mail after three days. Please note that booking requests received during 2017/12/28-2018/1/3 will be processed after 2018/1/4 with first-come-first-served basis
* Booking acceptance will be closed when the seats are fully booked, or at 17:00 of the day before each performance. For the latest ticket information, please check the website.
Profile
Marginal Consort
Marginal Consort is a project for group improvisation started from 1997. The members (IMAI Kazuo, KOSHIKAWA T, SHII Kei and TADA Masami) from different backgrounds got to know each other at KOSUGI Takehisa's workshop. They produce sonic phenomena that develops spatially and temporally using anything available, whether instruments or objects. Berlin label PAN released its album in 2013.
Participating Creator