OPEN SITE
y/n "Sex / Work / Art"
OPEN SITE 5 | Open Call Program【Performance】
Photo:Yamahata Takuya
"Coming Out Lesson" 2020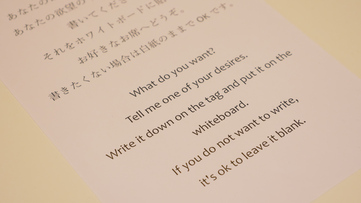 "Coming Out Lesson" 2020

Both actors and sex workers have jobs that entail communicating with customers/audiences through their bodies. Another similarity between the two professions lies in the role of financial transactions, but both tend to have their status as "work" overlooked. What is the counter value that people pay for? This lecture and performance re-examines ideas of "proper" relationships between "us" as we share spaces, through the similarities and differences between these two occupations that have historically overlapped.
Date

2021/2/5 (Fri) 19:00 -
2021/2/6 (Sat) 14:00 -, 19:00 -
2021/2/7 (Sun) 14:00 -
* Door opens 30 minutes prior to the performance.
★Performance time: about 50 minutes. Talk will be held after each performance.
Admission

Ticket A: 3,000 yen | Ticket B: 2,000 yen
There is no difference on both tickets except the price.
Capacity
20
Language
Japanese
Venue

Tokyo Arts and Space Hongo Space C (3F)
Conceived and Directed by
y/n
Performer
HASHIMOTO Kiyoshi
Ticket Booking
Please send E-mail with providing your Name, Phone number, Title of the program, Date and Time of the program, Number of the tickets with a subject of "OPEN SITE booking request [title of the program]."
Please note that booking requests will be closed during 2020/12/25-2021/1/4.
E-mail: ticket2020(at)tokyoartsandspace.jp
*Please change (at) to @
*OPEN SITE Administration Office will reply a booking confirmation within three working days. Please contact us again in case you do not receive the confirmation E-mail after three days.

*Payment should be made by cash at the door.
*Booking acceptance will be closed when the seats are fully booked, or 2 hours before each performance. For the latest ticket information, please check the TOKAS website.


Profile
Formed in 2019. y/n is a unit composed of director/actor Hashimoto Kiyoshi and critic and dramaturg Yamazaki Kenta. They carry out performance-focused projects based on research and documentation.
Participating Creator