TOP >
Archives >
TAKAMATSU Kasumi "RENKU of red thread"
OPEN SITE
TAKAMATSU Kasumi "RENKU of red thread"
OPEN SITE 7 | Open Call Program【dot】
Renku, a type of linked verse which served as the basis for haiku and senryu, is a collaborative form of poetry composed by two or more people consisting of five lines (the first three with 5-7-5 syllables and the last two with 7-7). In this project, Takamatsu translated literary expressions such as renku rhythms, speed fluctuations, refined and vulgar terms, and light and heavy words into visual expressions, to visualize the thread-like links between the verses. By also holding workshops and live events during the exhibition, she created a venue for interpreting renku from a wide range of perspectives.
| | |
| --- | --- |
| Period | 2022/12/10 (Sat) - 2022/12/18 (Sun) |
| Closed | 12/12 |
| Time | 11:00-19:00 (The exhibition will close at 12:30, 12/18(Sun) ) |
| Admission | Free |
| Venue | Tokyo Arts and Space Hongo: Space C (3F) |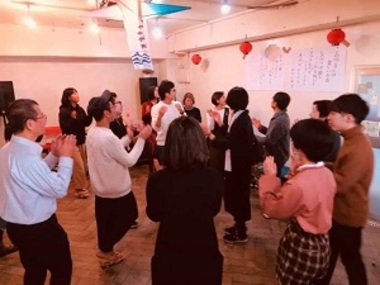 Renku×Bonodori 2020 Koenji Pundit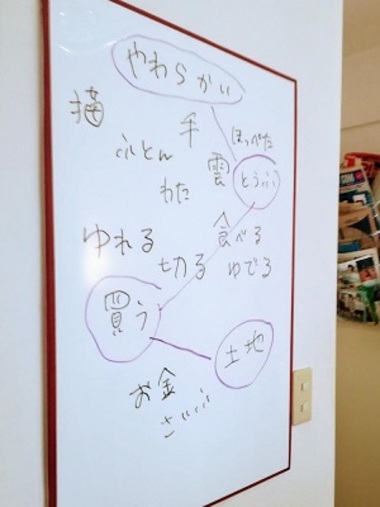 Renku Yururi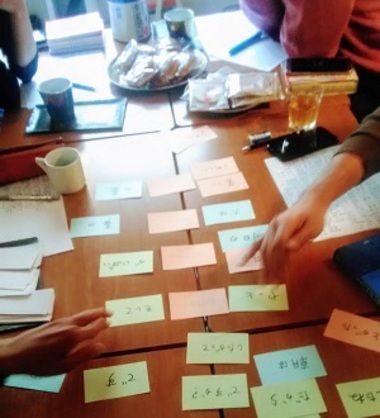 Renku Yururi

Related event
(1)Renku Live
The two of them will roll a renku, just the two of them. First, watch the two of them at the desk. Then, by reading the QR code installed, you can check the progress of the renku in real time on your smartphone or tablet. Please "observe" the two of them as they create a story.
| | |
| --- | --- |
| Date | 12/11 (Sun) 13:00-17:00 (Ends as soon as the work is completed) |
| Guest | NAKAMURA Yasunobu |
| Admission | Free *No booking required |
(2)Renku×Bonodori
Bon Odori and Renku have the same seven-five syllables. They also have in common the "culture of creating together" that flourished during the Edo period. In Bon dances and folk songs of the past, there was a culture in which dancers improvised songs, rather than using only existing lyrics. The people present at the dance would make up lyrics in the mood of the dance, and then sing the lyrics to each other, and then join together. It is very attractive. But it seems a bit difficult. So, using renku, we will create "Bon dance lyrics" in a workshop style. Whether you like Bon Odori, folk songs, renku, poetry, haiku, or tanka, whether you have danced before or not, whether you have experience in literary creation or not, please feel free to come and join us. Let's make up lyrics, sing, and dance together using various everyday words.
| | |
| --- | --- |
| Date | 12/18 (Sun) 13:00-14:45 / 15:15-17:00 |
| Guest | BONPAKU(ONO Kazuya/BONKICHI Su) |
| Admission | Free |
| Capacity | 10 *Booking required |
| Venue | Tokyo Arts and Space Hongo: Space C (3F) |
Profile
In 2011, Takamatsu joined a
renku
group called the Somonkai. In 2012, she began holding Renku Yururi workshops. Through the use of card games,
kamishibai
(picture-story shows), and other things, she created an environment that was easily accessible to those without any knowledge of
renku
. Takamatsu has organized many other workshops and talk events related to
renku
.
Participating Creator