Residency Program
Research Residency Program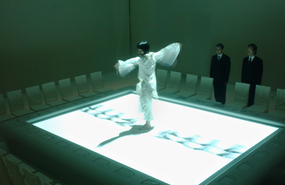 post theater
| | |
| --- | --- |
| Participating Project | Research Residency Program |
| Activity Based | Germany / United States / Japan |
| Period | 2009.1 - 2009.3 |
Purpose of the residency
post theater visits Tokyo to research fish, fish consumption and culinary culture around fish in Japan. This is preparation work for the upcoming multi-media performance "Fish-Tales" which will premiere in the Winter of 2009 / 2010 in Berlin and then tour to co-production partners in other cities.
Plan during the residency
- fish and identity in Japan: how do people in Japan relate to their fish consumption
- fish and knowledge in Japan: do people know where their fish is coming from?
- fish as commodity: where is fish in Tokyo sold, presented and consumed?
- special attention is brought to tuna for its crucial role in the Japanese diet and identity.

[ Activity Report ]
Activities after the Residency 2010 September post theater presents two new versions of "Express Fight Club" at the Digital Arts Festival of Sofia, Bulgaria.