Residency Program
Exchange Residency Program
(Japanese Creators sent abroad)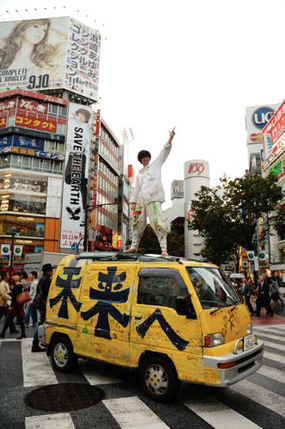 Ichiro Endo
| | |
| --- | --- |
| Participating Project | Exchange Residency Program (Japanese Creators sent abroad) |
| Activity Based | Japan |
| City | London |
| Period | 2012.9 - 2012.10 |
Purpose of the residency
1)"Go for Future World Project"

My hope is to connect the world.

I have nomadically traveled across the country with my van. The van is called Go for Future, on which the words 'go for future' and the dreams of the people I met are written. I carry all the dreams on the car and head to various places, where people who live there write their dreams. That's the way I have traveled throughout the country
and sent the message 'GO FOR FUTURE'. The car, Go for Future, is the proof of the connection between people, which is bound up by people's dreams and hopes.
We would like to realize the Go for Future World Project on the world stage. Through sending the message 'for the future' to the people all over the world who live in the present, we will connect the world by a circle of the dreams and the bound.

Through this project, we would like to send the message that 'the connection and the bound between people are invaluable' and 'it is important to head for the future by living the present with dreams and hopes.'

2) "FUTURE DRAGON BIG SKY KITE"

I started this project in 2009, and already held in anywhere in Japan including Tohoku area, Shang-hai, India and so on. In this project, we made a train of kites. Every kite people write their dreams, connected each other and fly into the sky. This project also have a message 'the connection and the bound between people are invaluable'.
So I'd like to bring and fly on the sky in U.K, and connect the dream kite there.
Plan during the residency
Driving the car which car people write the dreams on, and stop any spaces to fly kite in the sky.
We will meet and make a communication with people in U.K., also deliver message from Japan.