Residency Program
Research Residency Program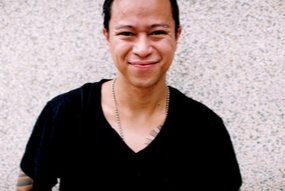 Safrie Effendi
| | |
| --- | --- |
| Participating Project | Research Residency Program |
| Activity Based | Singapore |
| Period | 2013.1 - 2013.2 |
Purpose of the residency
My main purpose is to share, exchange, and gain more experience and more knowledge from this particular environment and the surrounding. Another simple word it's to give and take among the people who has the same interest which is Art. In even more details, when I execute my work at The Tokyo Wonder Site,
I would like to keep it as simple and traditional as possible. I am trying to stay away from modernism (such as digitalized computer based or aspect); Traditional art has no boundaries, has unlimited freedom, and comes out from the simplest materials; (From the simplest materials or tools, you could make a masterpiece). The contribution from the project is to show the inner side, and exposing my imagination and all the deep thoughts which going on inside me and surrounding me.
This will contain of fear and desire, love and hate, and will also be composed of myths and narratives as mixture of surrealism and symbolism as well (as I wrote above)
Obviously The genre of my work would be literary sharing sessions open the door way to the awareness and understanding of existing subcultures. Understanding encourages acceptance which eliminates segregation and ostracism.
Plan during the residency
I'm planning to divide this into two: The Activity Inside of TWS and The Activity Outside of TWS.
For The Inside of TWS: I most definitely will be here a lot since the technical aspects in making the Artworks it does take a lot of concentration and time consuming. Because I'm trying to make a 3 or 4 series of work of a canvas sizing on 1.5M Height x 50cm WIDTH.
The Art Materials that would be used: Oil and Acrylic Paints, Markers, Pencils andCharcoals. Basically is a mixed media. The Works will contain of a Story telling in Mythical way about a Man who's having a journey into a mythical ancient Japan age. He finds himself in the strange land where he has never been before. Om this journey he will find new things about life and he will learn a lot of things in the aspect of life.
..now that's just the basic brief of the story line, however in order to execute it.. I'm gonna need to learn and research more about Japanese culture and its ancient stories , either it's the mythical or folklore stories or even a real situation story.
(beside, I've always influenced by Japanese Tattoo Art style)
Also Inside the TWS, I will do lots of research either online or by books and sketching as if I would do a study before I execute it into canvas. For The Outside of TWS: As you know I'm a people person, somehow I need to get out to feel the vibe and to feel the culture of the nation that I'm in. I would walk around and engaged conversations with the people there and perhaps to take amazing photos as part of the Journey. I would visit any Art museum and History Museum. I really don't know where they are, however.. by visiting any Art museums, History Museums, Temples, Shrine, Old ancient places,etc.. would help a lot for me in doing my research.
I would documents the events outside TWS ether by taking photographs or by doing some sketches as well.