Residency Program
Exchange Residency Program (International creators from abroad)

update: 2022.5.9
Sera Yu Wen CHEN
| | |
| --- | --- |
| Participating Project | Exchange Residency Program (Creators from abroad) |
| Activity Based | Taipei |
| City | Tokyo |
| Period | 2022.4 - 2022.7 |
Purpose of the residency
During the residency, I plan to learn and experience the spirit and Zen philosophy of the Japanese rock garden, which will be a significant inspiration and research for my project, Write a Poem Before the Landscape Disappears, to investigate the transformations within nature and different cultures and historical time. My project focuses on Taiwan and Japan's extension of natural landscaping and explores the differences and similarities after the transformation and interpretation of "nature" in different cultures by means of artistic creation. If we could think Japanese rock garden as a three-dimensional poem in a landscape, let's write down another poem for our landscape.
Plan during the residency
I plan to research the formation of cultural landscapes (such as Karesansui) in Japan, and how it changes the way of perception of nature for people.
Collecting relevant materials and objects.
Transform my research and collection to visual form for the outline of artwork, Write a Poem Before the Landscape Disappears.
Public sharing: Open studio/ exhibition.
Activities during the residency

For a time during my residency in TOKAS, I explored different transformations between nature, culture, and urbanology by investigating various artificial natures in Japan, such as Japanese traditional gardens and street plants, which present a unique way of construction of nature view. For conducting my research, I visited various traditional Japanese gardens, such as Rikugien, Koishikawa Korakuen and Hama-rikyu Gardens. I looked at these traditional Japanese gardens and also plant pots on the street to emphasize artificial nature in this modern time. There is no real nature but artificial nature because of city construction and modern human life. On the other hand, I am interested in the labor structure and the methodology of preservation of historical garden behind these landscapes. So, I interviewed gardeners and invited them to tell stories of these gardens and the methodology of preservation for these historical sites. With this project, I attempt to relocate our relationship with nature, landscape and human's individuality in the modern time and recreate the new phenomenon of the landscape to unfold a dialectic space in my work.
Outcome of the residency

With the research project, I have new development of art practice and discovered significant perspectives to retell the story of these landscape by interviewing those gardeners, which would not be possible if I did these research in Taiwan. I was inspired a lot by those immersive and poetic "artificial nature" landscape by walk inside of their "bodies". These gardens are interwoven by time and space in hundreds of year, and offered us a unique way to perceive tree, grass and flowers in modern life. By an interview with Mrs. SAKAGUCHI, I found an interesting fact: to preserve a garden, especially for a historical garden, gardeners have to prune overgrown leaves out of plants. In the dictionary, prune is to remove as superfluous, meaning cut also. It is interesting that people conduct a work of preservation by "cut", instead of "keep". "Keeping" a traditional Japanese Garden is to "Cut". Because most of these traditional gardens have to be looked the same as the historical painting. Every tree has to be kept the same shape as it looked in the historical paintings. Paintings served as representation functions before photography was invented, but now, these gardens become representations of these historical paintings. Our viewing is not conducted on our own, as we thought. In the end, it might be controlled by historical, cultural, and political frames. After residency, I have serval shows coming up, and I am going to turn those element (result of research) into a video installation, unfolding a dialectic space to viewer by these images, interview content and photos I collected during my residency. I also want to have more research about the relationship between Taiwan and Japan's landscape, keeping redefine "cultural landscape".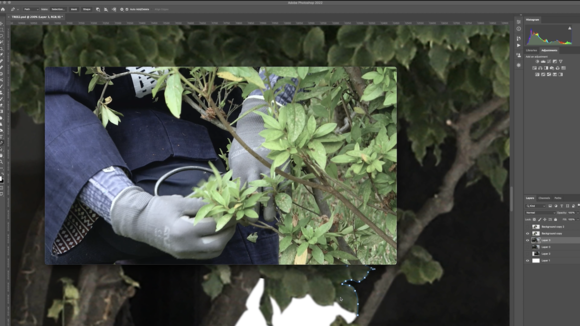 2022, Screen shot of video work
2022, Screen shot of video work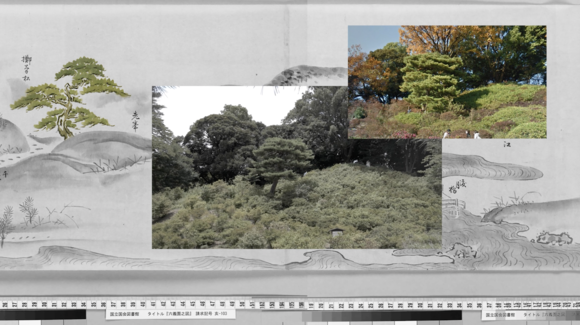 2022, Screen shot of video work
2022, Open Studio, TOKAS
2022, Installation View TOKAS Hongo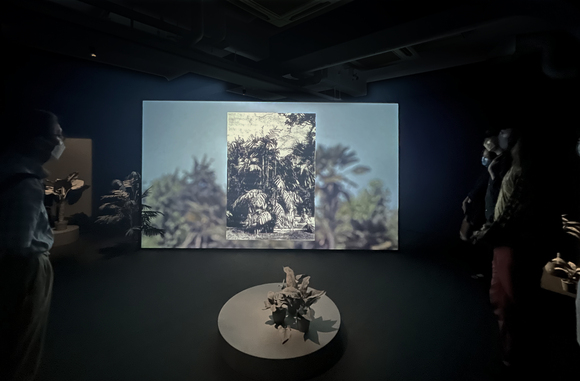 2022, Installation View TOKAS Hongo