Residency Program
Institutional Recommendation Program

update: 2023.3.7
Michel HUNEAULT
| | |
| --- | --- |
| Participating Project | Institutional Recommendation Program |
| Activity Based | Montreal, Canada |
| City / Place stayed | Tokyo |
| Period | 2023.3 |
Purpose of the residency
While in Tokyo I will continue my work on Nature and Modernity, which I have been developing since 2012 in Japanese cities, and also in Canada. This work directly informs - and is in dialogue - with my research in Tohoku, also ongoing since 2012. In 2020, I was in Japan to continue these two projects when Covid interrupted my stay and our lives. This 2023 return to Japan marks the resumption of this work, and the opportunity to reflect on my practice in our new context.

Plan during the residency
Photography, filming, sound recording in the city
Conceptual research and writing
Editing : photography, film, sound

Networking with peers and institutions, replenishment (museum, galleries, art events)
Activities during the residency
Focusing on issues related to development, trauma, and other geographically complex realities, I continued my research on post 3-11 rehabilitation in Tohoku and the relationship between nature and modernity in Japanese cities. I documented finalized 3-11 memorials that have emerged across Miyagi. Constituting a comprehensive Densho official itinerary for newcomers, these monuments and museums interact with both my own and the local population's history and evolving memory of the event.
On my previous visit in 2020, I had to interrupt halfway my 3 months long fieldwork due to the emergence of the Covid pandemic to fly back to Canada. This 2023 visit was the opportunity to finish this interrupted work and to re-establish working relationships in Japan.
Outcome of the residency
- Most importantly, I was able to finish my 2020 interrupted workplan and residencies in Tohoku and in Tokyo.
- I met with many institutions and was confirmed two new upcoming exhibitions.
- Art centers : I reconnected and stayed with Arts Chiyoda 3331, I visited and applied to Paradise Air (result pending), I stayed for a short residency at Sapporo Tenjinyama Art Studio and. I was accepted for 3-month upcoming residency in winter 2024 by an art center(funding request pending from Canada Arts Council, not for online publication yet).
- I also met different academics and initiated a new collaboration with Professor Pamela Taylor of Akita International University.
- Meeting with current cohort of creators at TOKAS during their open studio, and visiting the Waiting for the Wind exhibition at Museum of Contemporary Art Tokyo (being present for the artists' talks and meeting the artists as well). Two very inspiring moments.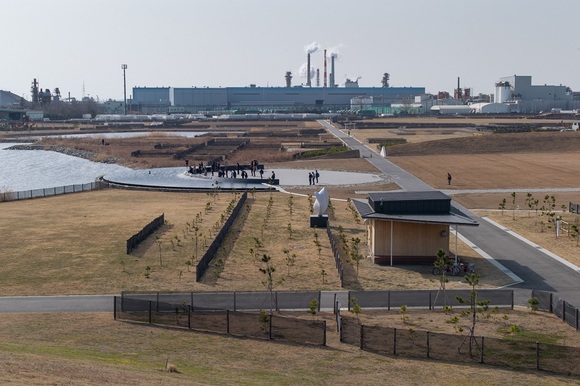 Minute of silence, 14:46 on March 11 2023, IshinomakiMinamihama Tsunami Memorial Park. 2023, Photography
Michel Huneault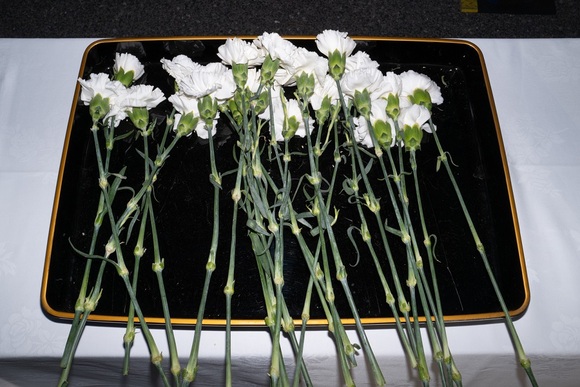 Flowers to the memory of the victims, IshinomakiMinamihama Tsunami Memorial Park. 2023, Photography
Michel Huneault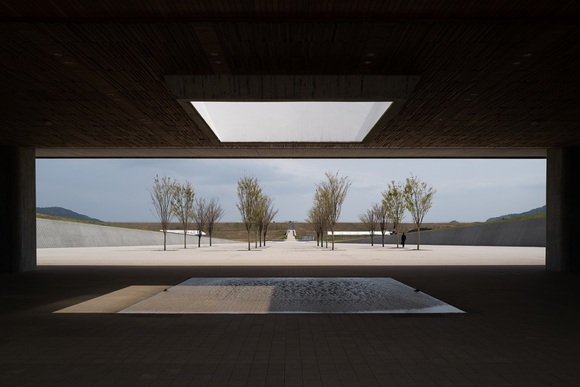 Iwate Tsunami Memorial Museum, Rikuzen Takata 2023, Photography
Michel Huneault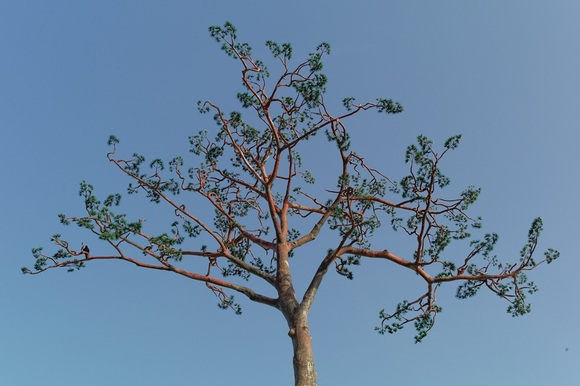 Miracle Pine tree preserved with metal and polymer, Rikuzen Takata. 2023, Photography
Michel Huneault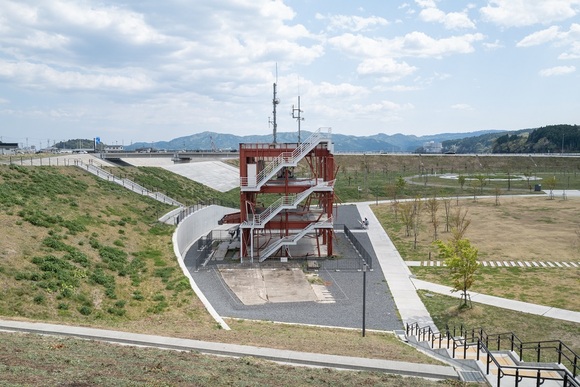 Tsunami memorial park at the ruins of the Minamisanriku bosai center. 2023, Photography
Michel Huneault=t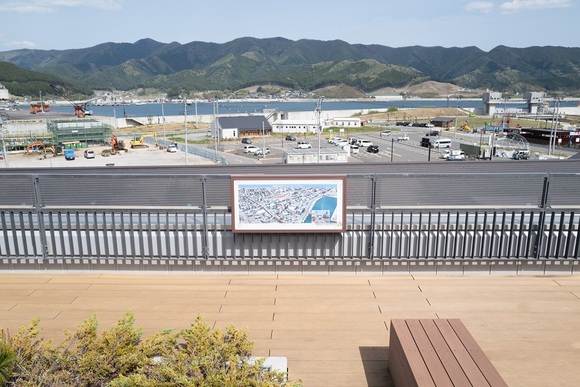 A photograph shows pre-tsunami comparative landscape, rooftop terrace of Tourist information center of Ofunato. 2023, Photography
Michel Huneault