Other Program
Exhibition | JAMES LYNCH
TWS Aoyama: Creator-in-Residence Program Exhibition
Exhibition
Information
| | |
| --- | --- |
| Title | Exhibition | JAMES LYNCH TWS Aoyama: Creator-in-Residence Program Exhibition |
| Date | 2007.12.22(Sat) - 2008.1.27(Sun) |
| Time | 11:00 - 19:00 |
| Admission | Free |
| Organize | Tokyo Metropolitan Foundation for History and Culture, Tokyo Wonder Site |
| Cooperation | Asialink |
| Sponsor | Energy Saving Conference on Transport (ESCOT) |
| Association | Australian Embassy |
| Venue | TWS Shibuya |
| Artist | James Lynch |
In November 2006, Tokyo Wonder Site (TWS) established residency facilities in Aoyama with the aim of facilitating work by artist-in-residence. Activities of Tokyo's newest art platform have, as of this year, expanded further to encompass three locations: Hongo, Shibuya and Aoyama. The culmination of works produced by artists resident at TWS Aoyama between autumn and winter this year is presented at this exhibition at TWS Shibuya. The artists: an Australian artist James Lynch, who was resident on the Invited Artists Program with the cooperation of the Asialink; a Canadian artist Jérôme Fortin resident through the Cultural Residency Program.
Melbourne-based artist James Lynch has been engaged in diverse creative work in such varied fields as drawing, installation, collaboration, painting and animation. In recent years, Lynch has been using the question how much humans can remember and how much we can forget about the past as a cornerstone for his artistic work. The results are animated films made from scenes of people's earliest memories and those in which the artist himself appears in his friends' and acquaintances' dreams. In this exhibition, Lynch presents an animation based on experiences his late father serving as a soldier in WWII.
Jérôme Fortin was born in Québec, Canada, and is currently based in Montreal. He collects industrial goods, mass-produced commodities and other perfectly ordinary objects found in daily life, and assembles those into works of art. Corks, lids of beer bottles, matches, keys, plastic bottles, books and other things are combined to form new unities that sometimes resemble giant jewels or murals. During this residency program, Fortin, who was very much inspired by John Cage's "Ryoanji," collaborated with an emerging Japanese composer Yukiko Watanabe, and a German accordion player Denis Patkovic. At TWS he will exhibit a new installation work created from the collaboration with these musicians.

《The Drunken Soldier and Other Melodies》 2007 Digital Still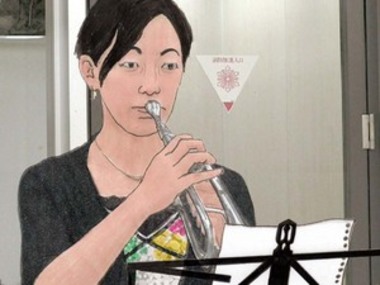 《The Drunken Soldier and Other Melodies》 2007 Digital Still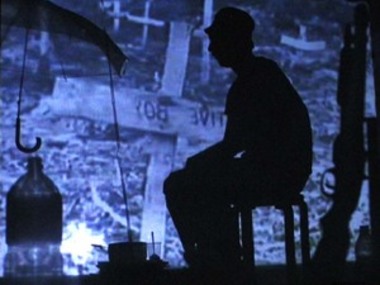 《The Drunken Soldier and Other Melodies》 2007 Digital Still

Related Event
Gallery Talk
※Finished
James Lynch and Jérôme Fortin themselves will explain their concept and process in front of their works at the gallery.
(Talk will be in English with Japanese translation.)
Date: December 22 (Sat) 17:00- (reservation not required)
Place: Tokyo Wonder Site Shibuya
Participating Creator