TOKAS-Emerging
TOKAS-Emerging 2021
*Temporary closure on 4/25(Sun) - 5/31(Mon)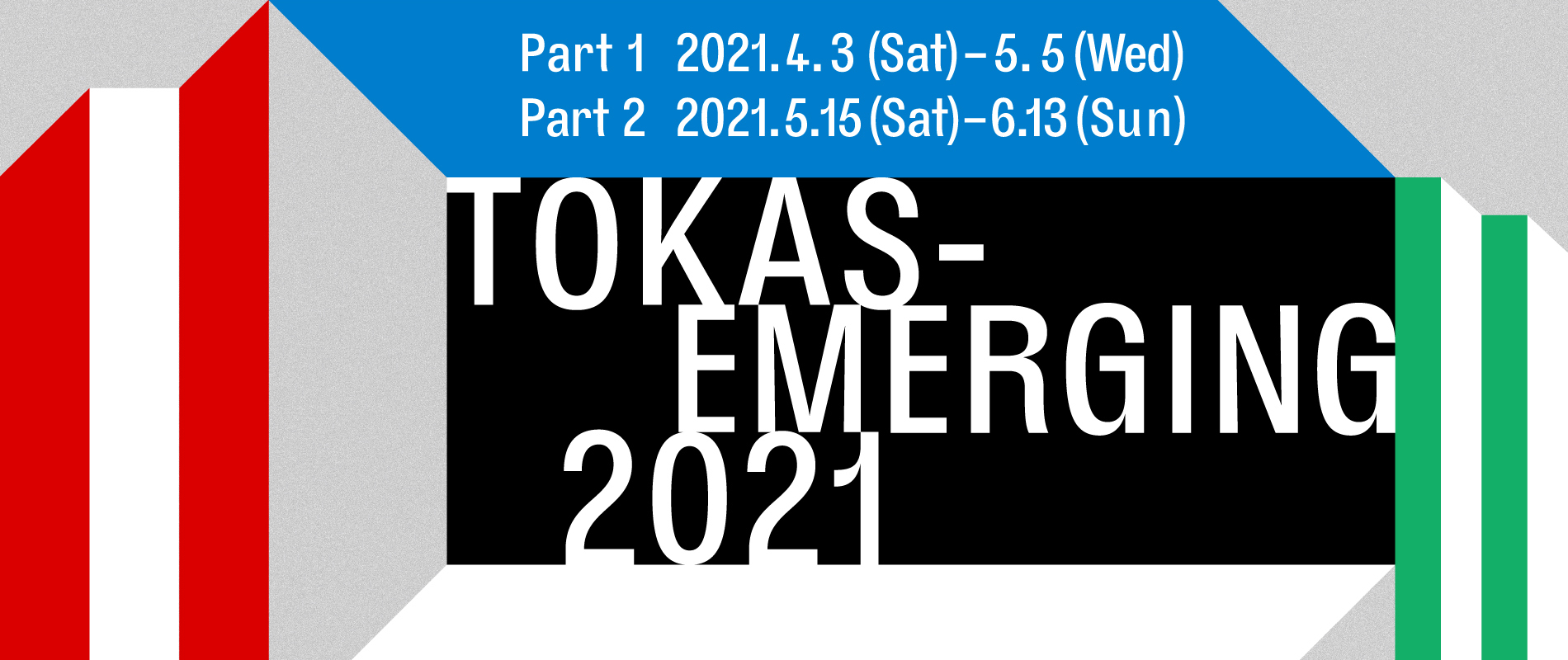 Implemented since the establishment of Tokyo Arts and Space (TOKAS) in 2001 in accordance with the institution's aim to support young artists, "TOKAS-Emerging" is a public program that has been targeting Japanese resident creators aged 35 or younger, and offering selected artists opportunities to exhibit their works.
Due to the facilities' temporary closure in response to the spread of the novel coronavirus, we were forced to cancel Part 1 of last year's "TOKAS-Emerging 2020." The three (pairs of) artists who were thus unable to exhibit their works in 2020, are featured in the upcoming "TOKAS-Emerging 2021," where works by a total of six (pairs of) artists will be on display. Held in two separate periods between April and June 2021 are exhibitions of works by up-and-coming artists, covering a wide range of formats such as two and three-dimensional artworks, video art, installations, etc.

Information  *Temporary closure on 4/25(Sun) - 5/31(Mon)
Title
TOKAS-Emerging 2021

Date
Part 1: 2021/4/3 (Sat)- 5/5 (Wed)
Part 2: 2021/5/15 (Sat) - 6/13 (Sun)

Time
11:00-19:00

Closed

4/5, 4/12, 4/19, 4/26, 5/17, 5/24, 5/31, 6/7

Venue
Tokyo Arts and Space Hongo

Artists

Part 1:MIZUKAMI Emi, MIYAKAWA Tomohiro, TSUGA Megumi
Part 2:KUKITA Akane, GengoRaw (Tomoya Ishibashi + Kento Niikura), TSUJI Rieko

Organizer
Tokyo Arts and Space, Museum of Contemporary Art Tokyo, Tokyo Metropolitan Foundation for History and Culture
※Programs are subject to change due to unforeseen circumstances.
※Details of the event will be updated on TOKAS website.
Part 1: 2021/4/3 (Sat) - 5/5 (Wed)  *Closed from 4/25(Sun)

MIZUKAMI Emi
"Dear Sentiment"

Mizukami combines motifs that she chooses from a variety of media, and subsequently applies her own unique "translation" methods – blackening out the canvas, or overpainting existing images with new ones – with the aim to create invisible areas, and thereby emphasize hidden images. Within the limited possibilities of contact and movement that define the new daily routine, she examines aspects of "body" and "emotion," with a focus on the renewed awareness of oneself and the people around.
Supported by: Ogasawara Toshiaki Memorial Foundation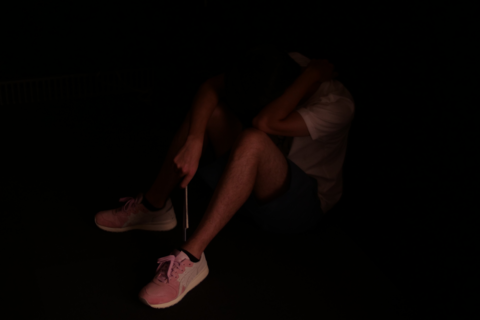 MIYAKAWA Tomohiro
"Watching from the distance/being there"

In response to the spread of COVID-19, Miyakawa intentionally chose to stop viewing artworks at exhibition venues. This experimental conduct was inspired by certain doubts and interests that Miyakawa has been harboring for some time, such as the questions, "Is an appreciation of art possible without visitors?" and "What is the value of 'being there' when art is being made to be recorded in the first place?" The results of these endeavors he assembled into an installation of photos and videos that is shown at this exhibition.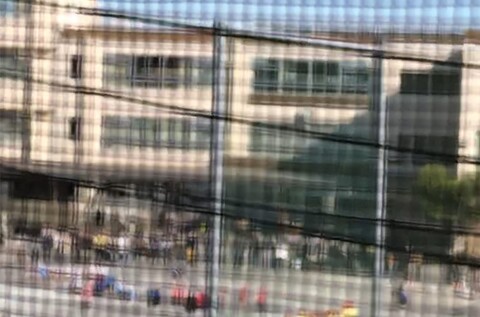 TSUGA Megumi
"Under the spreading serpent tree"

Tsuga captures all kinds of visual experiences in videos she casually shot from her window, or texts in which she describes how she supplements her gradually waning eyesight with contact lenses. Her attempts to reconstruct these sceneries inspire the viewer to think about "seeing" as an action and function of the human body.
【Interview video】*Available only in Japanese
Part 2: 2021/5/15 (Sat) - 6/13 (Sun) *Closed from 5/15 (Sat) to 5/31(Mon)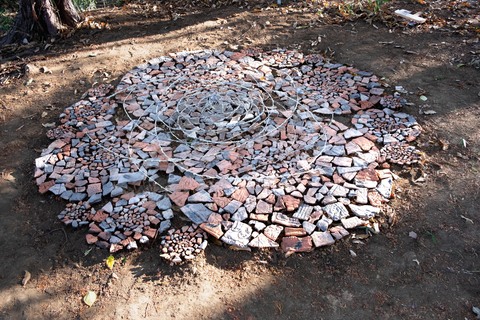 KUKITA Akane
"Distorted Symmetry"

In her work revolving around such craftwork as ceramic and metal art, Kukita modifies rational shapes by introducing manually created irrational distortions. Through these contradicting operations and their respective results, she aims to establish a form of artistic expression between natural and man-made. While consistently discussing the existence of "symmetry," the artist continues to create geometric images from parts of plants and ornaments. On display at this exhibition is a three-dimensional work combining the materials ceramic and brass.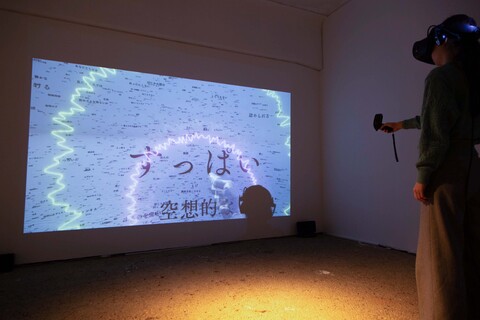 GengoRaw (Tomoya Ishibashi + Kento Niikura)
"Machine of Words"

Tomoya Ishibashi, an artist whose work has been revolving around aspects of life and language, collaborates in this art project with natural language processing engineer Kento Niikura, on "experimental/creative work related to the logic and imagination behind languages, from the viewpoint of machines." Continuing from "TOKAS-Emerging 2020," in this exhibition they present again a number of works inspired by machine learning, a technology that has significantly developed in recent years, and also unveil a new piece created using AI image recognition technology.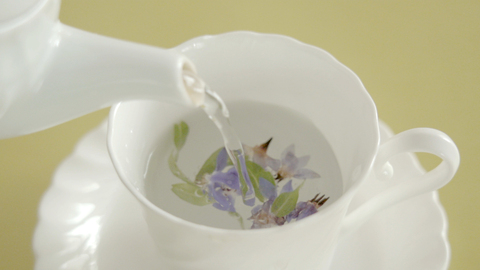 TSUJI Rieko
"Borage Tea"

Borage, a herb that since ancient time has been said to have a refreshing effect, is at once also a popular ingredient for herbal tea. Tsuji cultivates this plant with its characteristic blue, star-shaped flowers, which she has been making into works of art by various techniques. Her installations consist of elements such as documentary movies based on conversations – made while enjoying her self-made herbal tea – with acquaintances in Japan and abroad about their past experiences, and drawings made using flower pigment.


Exhibition Video
Artist interviews and installation views are available.

MIZUKAMI Emi


Provided by TAKAHASHI Kenji
Participating Creator
GengoRaw (Tomoya Ishibashi + Kento Niikura)
KUKITA Akane
MIYAKAWA Tomohiro
MIZUKAMI Emi
TSUGA Megumi
TSUJI Rieko