Residency Program
Research Residency Program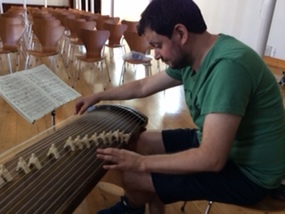 Dylan Lardelli
| | |
| --- | --- |
| Participating Project | Research Residency Program |
| Activity Based | New Zealand |
| Period | 2016.6 - 2016.7 |
Purpose of the residency
During this residency I wish to conduct advanced research in to a number of instruments both traditional Japanese and western. These instruments include Koto and Recorder. The most accomplished performers of these in the world reside in the Tokyo region and are Nanae Yoshimura (Koto) and Tosiya Suzuki (Recorders).
I wish to undertake study in to these instruments' playing techniques, sound production, repertoire and use in contemporary contexts. The purpose of these investigations is to develop new works for these instruments for future performances.
During my stay I will also present works in performances on Guitar. Also being present in Tokyo will enable me to further pursue my strong interest in Japanese language and culture.
Plan during the residency
During the residency I plan to have meetings with Nanae and Tosiya. During these meetings I will study their playing techniques in depth.
I will come up with new sound materials and playing techniques, which will be developed in to new works for future performances.
I will also meet with Mayumi Miyata (Sho) and Miyama Tokita (Jushichi-gen). With them I intend to conduct improvisation sessions with Guitar to develop material together.
During each session I will make recordings of traditional and new material. I will keep these recordings for personal study during the residency, and for later reference. While in Tokyo I will rehearse with Nanae's Koto School, for a concert in Tokyo. This concert will include my new piece for Koto and Guitar.