Residency Program
International Creator Residency Program

update: 2022.10.13
Tracey SNELLING
| | |
| --- | --- |
| Participating Project | International Creator Residency Program |
| Activity Based | Berlin |
| City | Tokyo |
| Period | 2022.5 - 2022.7 |
Purpose of the residency
I will be researching and documenting the love hotels in Tokyo and the surrounding area. Part of the documentation will include interviews inside the rooms with local people about love and relationships. I will make small scale sculptures of the love hotels and their rooms, incorporating photo and video from my research and interviews. This work will explore how love hotels function in Japan, and how they connect people and bring a sense of love, expression and belonging to individuals and couples. I will also be researching male host clubs in Tokyo, and making sculptures of these.
Plan during the residency
Visiting various love hotels and rooms, to document the rooms and exterior with photo and video
Inviting people to join me, so I can video interview them about love, relationships, and love hotels (can be done anonymously with a mask)
I will then create sculptures of the love hotels and rooms, incorporating video into the works
I also plan to make a video work and accompanying photos
Documenting various male host club exteriors and also researching and/or visiting them, to later create sculptures of several clubs
Activities during the residency
During my residency, I worked on two projects: researching love hotels in Japan and male host clubs in Kabukicho. For the love hotel project, I took participants to themed rooms, where I interviewed them in various disguises of their choice, for anonymity. The interviews were about love hotels, love, relationships and connection. I then made a portrait of each participant, and a second portrait including myself. I also documented the interiors and exteriors of the hotels. While at Tokas, I built one small scale sculpture with video of a love hotel I visited.
While wandering through Shinjuku for the first time, I became fascinated by the large lit images everywhere of young men who looked like teen idols, and decided to start a second project on male host clubs. Arranging two visits to male host clubs, I conducted one-on-one video interviews as well as video-documenting myself and multiple hosts in scenarios similar to a typical first visit. I then built a small-scale version of one out of the male host clubs I visited.
Outcome of the residency
During the residency and even continuing after, I was able to immerse myself into the projects. I am still researching and making more works around the subjects. I created two small scale multi media sculptures with video while there. I also conducted 10 interviews in love hotels, which will become a short film. Using the many portraits, room and exterior photographs from the love hotels, I would like to create a book, possibly including my photographs from Kabukicho and the male host clubs. I will create additional sculptures for the exhibition at Tokas Hongo, and would like to exhibit the works from both series elsewhere. I would like to find an art space for a two person exhibition in Europe with my works and the photographs from Momoko Ishihara, who is an artist taking interest and participating in the love hotel project. When I return to Tokyo, I plan to stay longer and continue my research and possibly conduct more interviews.
The most impressive episode was having the opportunity to visit the two male host clubs and to make video interviews while there. As I discovered while in Japan, it is a rare glimpse into a somewhat hidden or taboo subject.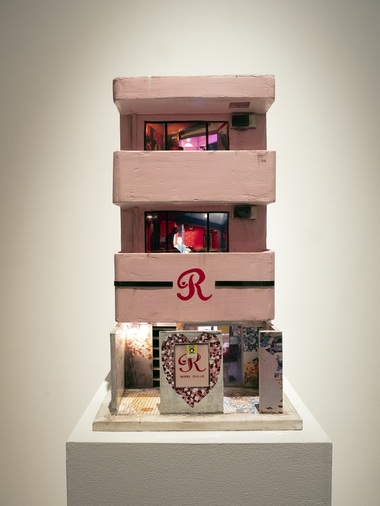 Hotel SM Rochelle 2022, mixed media sculpture with video
Hotel Rochelle 2022, photogragh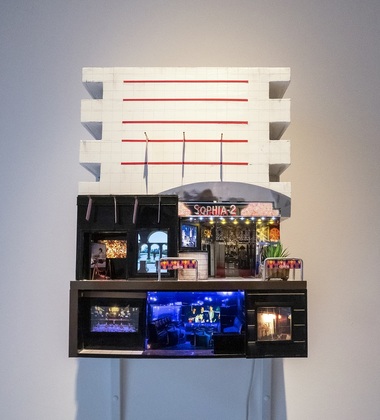 Club Opust 2022, mixed media sculpture with video
Club Opust 2022, photogragh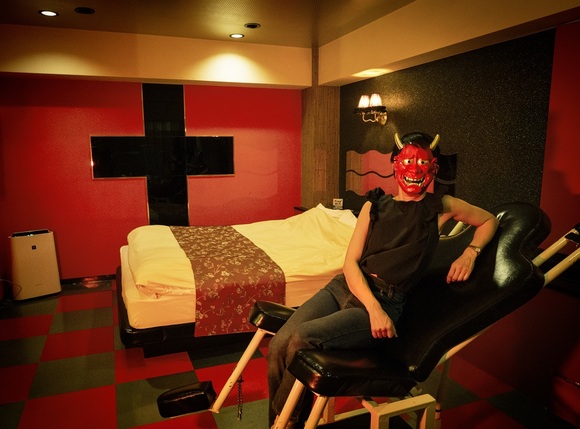 Hotel SM Rochelle:Kitty 2022, photograph
Hotel Fuki 2022, photograph
Hotel Sara Kinshicho 2022, photograph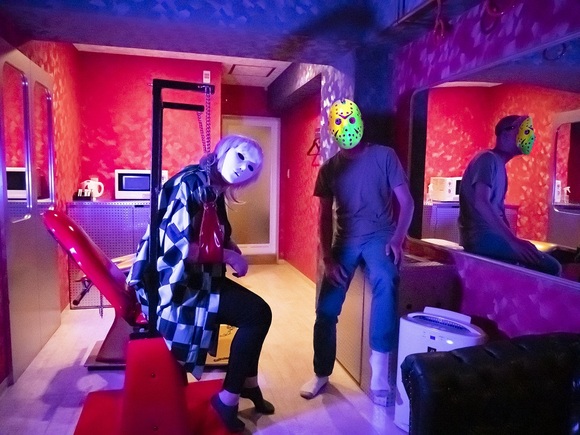 Hotel Rochelle 2022, photograph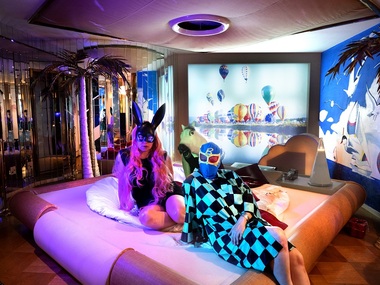 Hotel Chronos 2022, photograph