Profile
Born in 1992 in Paris, raised in London. Lives and works in Ho Chi Minh City. Graduated with a MA in History of Art from The Courtauld Institute of Art in 2014.
David is one of the curators currently running Sàn Art, a leading contemporary arts organisation in Vietnam. In addition to her ongoing interests in experimental cinema, video art, and queer performance, she is interested in developing new networks of support and collaboration between independent art spaces in the region.

Recent Activities
2023 "Ecologies of Water - Maix Mayer & Quynh Lam," Sàn Art, Ho Chi Minh City / Leipzig International Art Programme (LIA) *Co-organiser
2023 "Sàn Art Studio 2 - Tran Thao Mien," Sàn Art, Ho Chi Minh City *Organiser
2022-2023 "Don't Call it Art!," Sàn Art, Ho Chi Minh City *Co-curator
2022 "Saigon Experimental Film Festival IV," Sàn Art , Ho Chi Minh City / Á Experimental Space, Hanoi / CAB, Hoi An, Vietnam / Old Soul Art Hub, Danang, Vietnam / Cù Rú, Dalat, Vietnam *Co-curator & co-organiser
2022 "Remnants," Sàn Art, Ho Chi Minh City *Co-curator

Awards and Grants
2023 "Hanoi Grapevine's Finest - Category: Finest Project" with Saigon Experimental Film Festival IV
2023 "Fellowship for Research on Japanese Art," Ishibashi Foundation / The Japan Foundation
2023 event-related funds for "Saigon Experimental Film Festival IV," Purin Pictures / Movies That Matter

About curatorial activities
Primarily a cultural worker, David has been involved in a variety of residency projects in Vietnam, including A. Farm (2018-2020), Times & Realities (2021), Sàn Art Studio (2021-ongoing), and Ecologies of Water: a Leipzig-Saigon exchange (2023-ongoing), seeing community-focused programmes and international artistic exchange as crucial in activating and diversifying local art scenes. Since 2020 she curates exhibitions for Sàn Art while continuing to promote events featuring moving image and video art, which are not heavily practised in Vietnam. She co-curated the 3rd and 4th editions of "Saigon Experimental Film Festival" in 2021 and 2023, increasing the scale of the event and implementing it in 6 venues across the country. Aside from her ongoing archive of untranslatable words, David in interested in Japan's history of video art and use of new technologies in contemporary art, Japan's relationship to kitsch culture, as well as the survival strategies implemented by grassroot art spaces and residencies in Tokyo.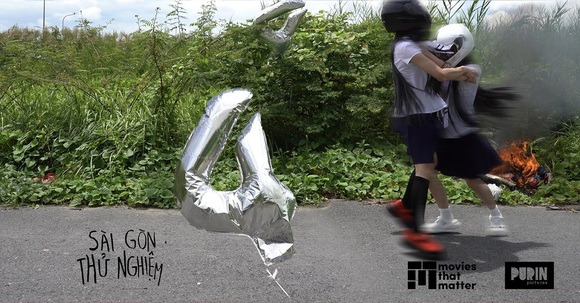 Promotional banner for Saigon Experimental Film Festival IV, November-December 2022
Design by Nathan Collis, Courtesy of Saigon Experimental Film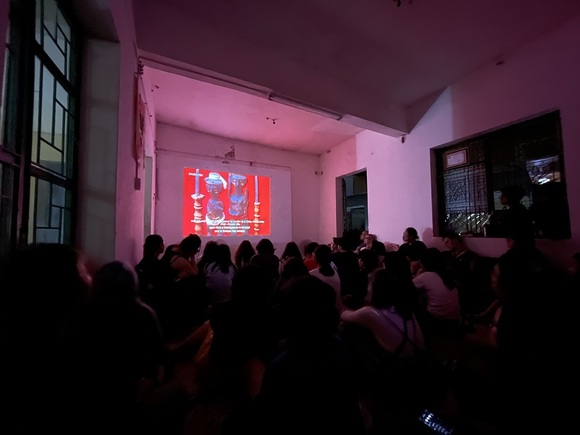 Screening of Matthias De Groof's Under the White Mask: the film that Haesaerts could have made during Saigon Experimental Film Festival 4, in Hanoi, November-December 2022
Courtesy of Á Space and Saigon Experimental Film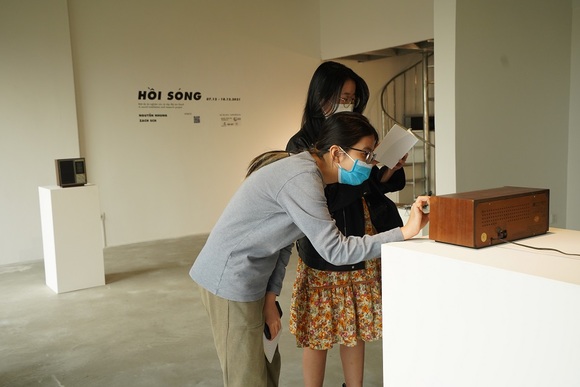 View of Hoi Song, a participatory and research-based sound installation by Nhung Nguyen and Zach Sch, Sàn Art, Ho Chi Minh City, December 2021
Photos by Binh Thanh Vo & Nguyễn Thanh Tùng, Courtesy of Hoi Song project & Sàn Art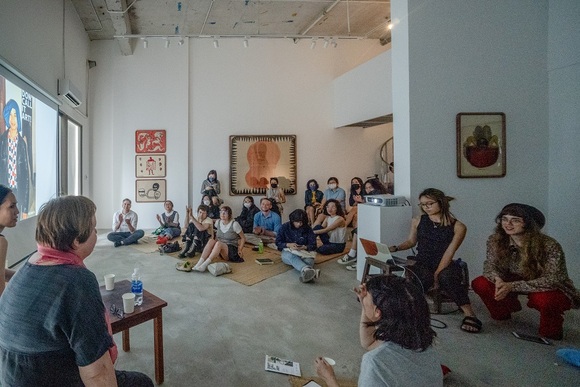 Don't Call it Art! Opening exhibition & publication launch with Veronika Radulovic and Pamela Corey, Sàn Art, Ho Chi Minh City, November 2022
Photo by Ngan, Courtesy of Sàn Art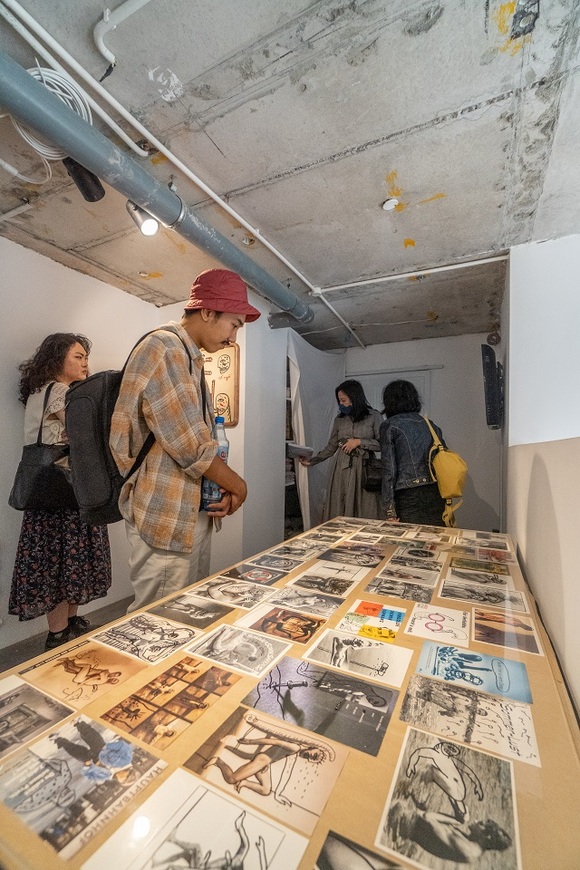 Installation view of Don't Call it Art! with a selection of queer postcards by Truong Tan
Photo by Ngan, Courtesy of Veronika Radulovic's archive & Sàn Art.