Profile
Graduated from Metal Smithing, Tokyo University of the Arts, MA in 2014.

Recent 5 main activities (personal exhibitions, group exhibitions, concerts) are
"Memento mori", solo, Gallery Tagboat, Tokyo, 2019
"ALL ART+", group, Van Der Plas Gallery, NY, 2018
"FORSAKING POP: A NEW ART GENERATION FROM JAPAN", group, WhiteBox, NY, 2018
"Chained", solo, Gallery Tagboat, Tokyo, 2018
"Independent New York", group, Ashok Jain Gallery, NY, 2017

Other activities (including awards received) are
"Independent Art Fes TAIPEI", Grand Prix Winner, Taipei, 2017
"Encouragement Award, 12nd KAJIMA SCULPTURE COMPETITION", Tokyo, Japan, 2012
"The 11th Tagboat Award", Grand Prix Winner, Tokyo, 2016

Born in Saitama. Jin Hashimoto received MA in metal-smithing from the Tokyo University of the Arts in 2014, and his graduation sculpture presented as public art at Ueno Park in Tokyo from 2011 to 2015. Thanks to the Grand prix from the 11th Tagboat Award, he got a chance to exhibit his works in Taipei in 2016. He participated in AIR Program of PIER2 in Kaohsiung in 2017. As his grandmother is Wansei, he has a strong interest in Wansei's history.

About works / performance
My work is an accumulation of the time that I spent for creation. I paint, carve, and shape the pieces of wood for long periods of time without having any preconceived plan. For me, the process itself is the most important part of my art. I want viewers to recognize the time and the connection with the universe. As we become aware of time itself and our connection with the universe, we truly understand the diversity and the importance of sympathy. Sympathy is the quality that makes us human, and it is what distinguishes us from the anthropoids. This important quality is now lacking in this modern society, full of conflict. I would like to show humanity how to restore sympathy through my artwork.
Memory Code, 2016, wood, H100cm x W100cm x D3.5cm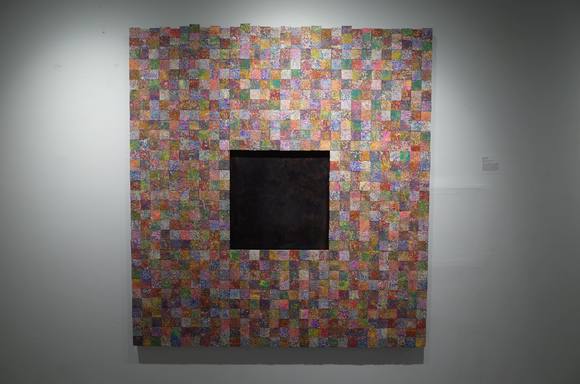 Cosmic Code, 2018, wood, acrylic paint, H 160cm x W 150cm x D 6cm
Memory Code – Wansei Blossoms, 2017, wood, acrylic paint, acrylic board, H 170cm x W 170cm x D 6cm (2pieces)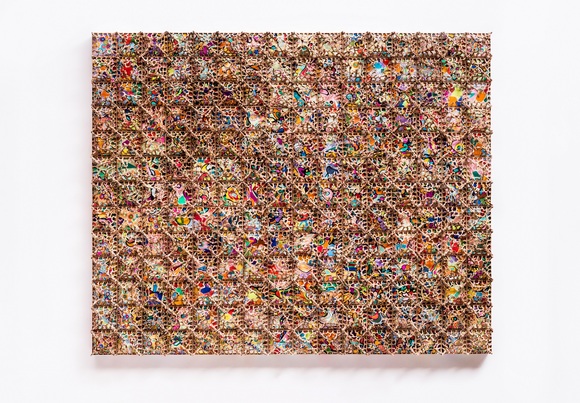 Memory Code, 2016, wood, paper, color pencil, H 65cm x W 80,5cm x D 9cm
Cosmic Code – Black circles, 2019, wood, acrylic paint, H 45cm x W 118cm x D 5cm
Memento mori, 2019, wood, paper, pencil, paint, H 44cm x W44cm x D 5cm